Caramelized Banana Pancakes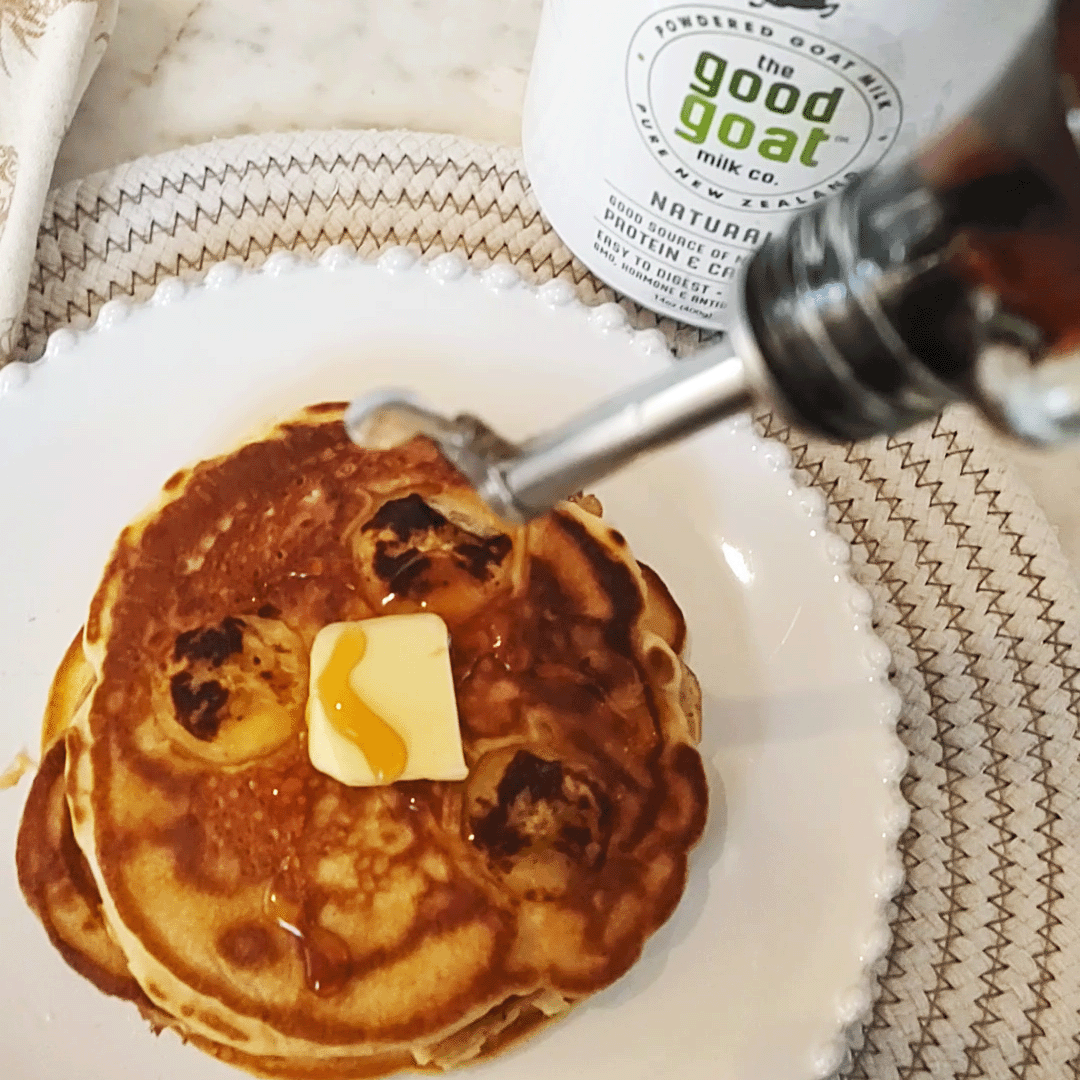 Caramelized Banana Pancakes
What's your favorite weekend breakfast? Pancakes are on the top of our list! 
Prep time: 10 minutes + cooking time
Makes: 4 Servings
INGREDIENTS:
2 1/2 cups reconstituted Good Goat Milk Powder
2 1/2 tablespoons apple cider or white vinegar or lemon juice
2 cups all-purpose flour
3 tablespoons brown sugar
1 1/2 teaspoons baking powder
1 1/2 teaspoons baking soda
1 1/4 teaspoons kosher salt
2 eggs
3 tablespoons unsalted butter, melted 
Butter, vegetable oil for pan
2 bananas sliced into 1/4" rounds
To Serve
METHOD:
Reconstitute Good Goat Milk powder into lukewarm water with a whisk (5 tablespoons powder = 2 1/2 cups). 
Whisk vinegar into milk; this will make the milk go lumpy and is a substitute for buttermilk. 
In a separate bowl, whisk flour, brown sugar, baking powder, baking soda and salt together. 
Using your whisk, make a well in the centre of the dry ingredients. Pour the milk mixture into the well and crack eggs into the milk. Whisk everything together. Pour melted butter into the mixture and whisk together. Do not over mix; the batter will be a bit lumpy, but this is ok.
Heat a large skillet over low heat for 5 minutes. Add 1 tablespoon of butter or oil to the pan.
Place 3-5 pieces of banana into the butter in the skillet then pour 1/3 cup of pancake batter over the bananas. 
Flip pancake after bubbles rise to the surface and the bottom is golden brown, around 2 to 4 minutes. Cook until the other side is lightly browned. 
Eat right away or keep warm in the oven until the rest of the batter is cooked. 
Tip: We love to make extra pancakes; freeze them and pop a pancake in the toaster when you are squeezed on time for a quick snack. Enjoy :)