Goat Milk Sweet Potato Mash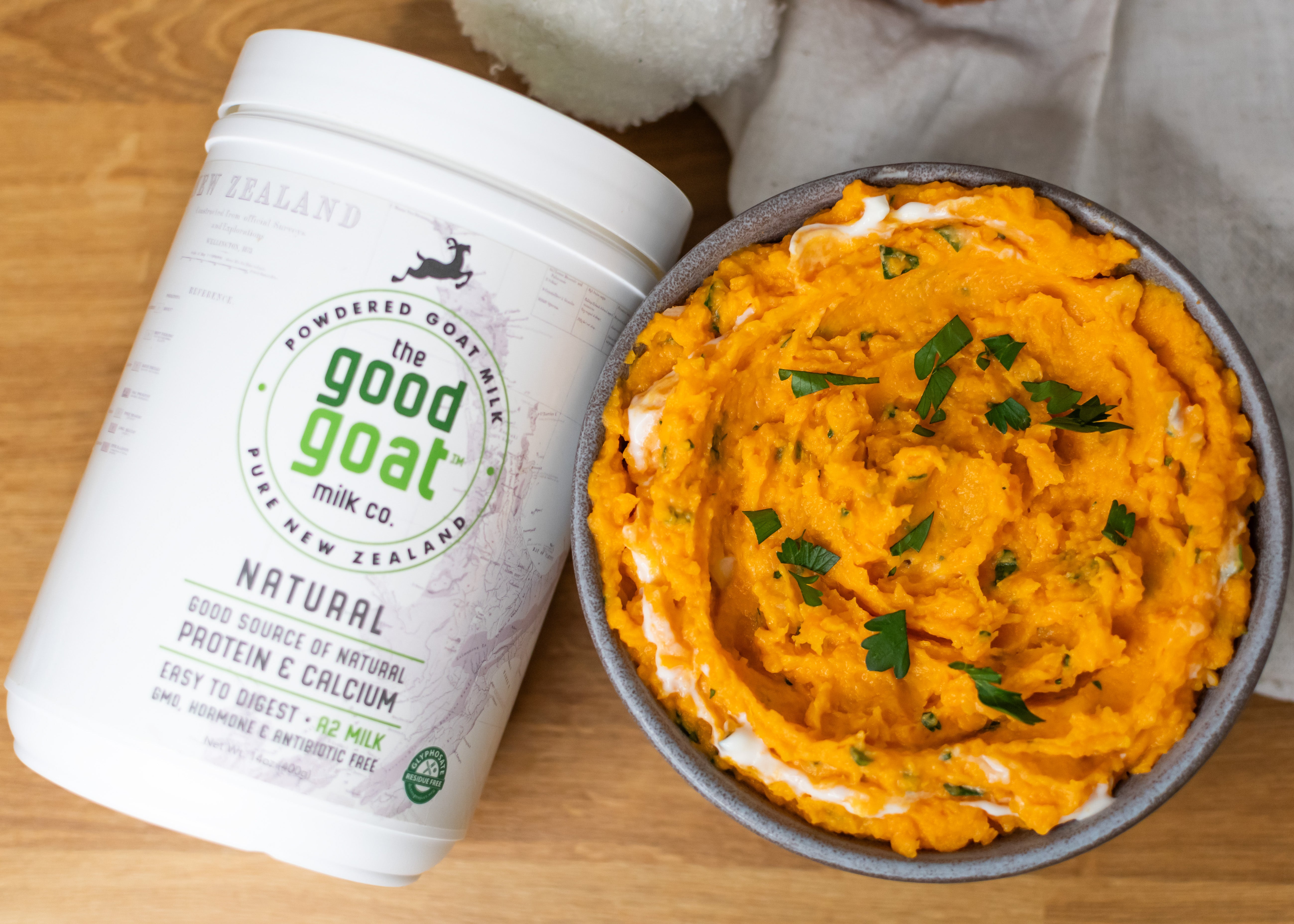 Goat Milk Sweet Potato Mash
Looking for a delicious and impressive side dish for your Thanksgiving dinner? This sweet potato mash is perfect for the fall season and is sure to be a hit with your guests every time!
Prep time: 10 minutes  
Cook time: 15 minutes  
Total time:  25 minutes  
Yield: 6 servings
INGREDIENTS
6-7 small to medium sweet potatoes, peeled and cubed

1 teaspoon salt 

1 scoop Good Goat Milk Powder
3/4 cup water

3 tablespoons butter, cubed

⅓ cup finely sliced green onion

⅓ cup finely chopped fresh parsley

1 garlic clove, minced

1 teaspoons sea salt
METHOD:
In a large saucepan, place the cubed sweet potatoes and add enough water to cover them by about one inch. Sprinkle in 1 teaspoon of salt. Bring the water to a boil and then reduce the heat and simmer. Leave the saucepan uncovered and cook until the sweet potatoes are tender, which should take approximately 9-12 minutes.

While the sweet potatoes are cooking, reconstitute the Good Goat Milk by combining the water and Good Goat Milk Powder. Stir until the powder is dissolved. Set the reconstituted milk aside.

Once the sweet potatoes are soft enough to be easily pierced with a fork, drain them well and return them to the same pot.

Mash the sweet potatoes to your desired consistency, adding the reconstituted milk slowly, a little at a time, until you achieve the desired creaminess. 

Add the finely chopped green onions, most of the parsley (leaving some for garnish), and the minced garlic. Stir to combine all the ingredients.

Add the butter, sea salt and stir until the butter is fully melted.

Season the mashed potatoes with freshly ground black pepper, and sprinkle the remaining parsley on top as a garnish.

Serve promptly, and enjoy!