Good Goat Hot Chocolate Bomb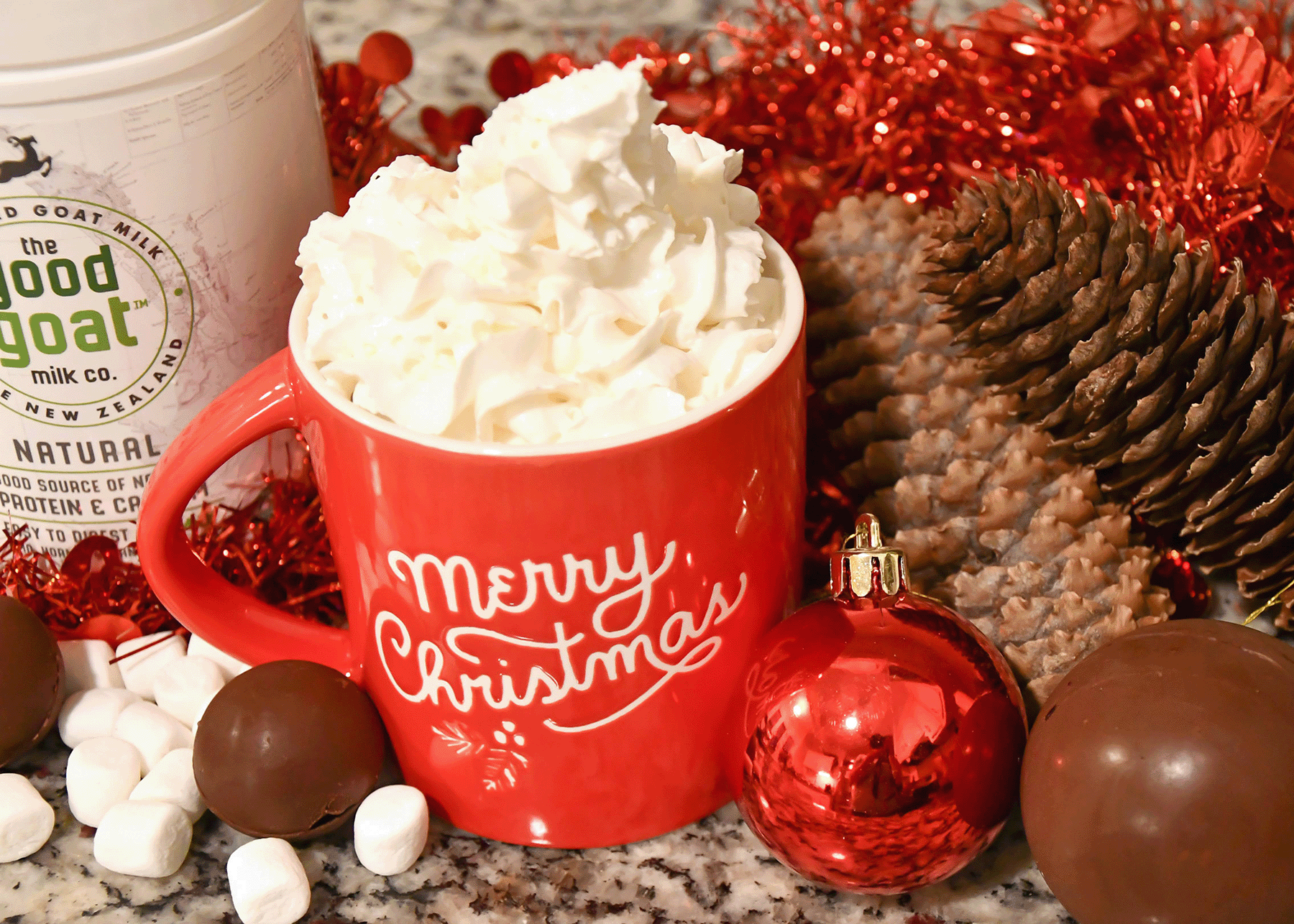 Good Goat Hot Chocolate Bomb
Hot chocolate with a fun spin! These hot chocolate bombs are an exciting way to make a winter classic.
Prep Time: 5 minutes
Cook Time: 5 minutes
Cooling Time: 10 minutes
Total time: 20 minutes
Servings: 6 spheres 
INGREDIENTS:
1 scoop Natural Good Goat Milk Powder per chocolate bomb

1 cup of water per chocolate bomb

24 ounces (680g) semi-sweet

couverture

chocolate or chocolate bar

1 cup (50g) mini marshmallows

6 tablespoons hot chocolate mix

Whipped cream (measure with your heart)

  
METHOD:
To make your hot chocolate bomb:
If using a bar of chocolate, use a sharp knife to chop the chocolate finely.
In a microwave-safe bowl, place the chocolate in the microwave for 30 seconds.
Take the bowl out of the microwave and stir the chocolate well. Place back in the microwave for 15 seconds.
Continue this process until the chocolate is mostly melted. Mix chocolate together until no chunks remain.
In a silicone mold, use a brush to cover the inside of the sphere with a thin layer of melted chocolate and refrigerate for five minutes.
After five minutes, brush another thin layer of chocolate into the mold on top of your first layer. Make sure to focus on the rim of the sphere and create thickness where your two sides will meet.
Refrigerate again for 5 minutes or until your chocolate is cool enough to work with.
Take the chocolate molds out and fill one with two tablespoons of hot chocolate mix, marshmallows, and anything else you want inside of your hot chocolate bomb!
Pipe melted chocolate around the sphere's edge and place the second sphere on top, pressing them firmly together.
Carefully wipe away any leftover chocolate.
To assemble hot chocolate 
Place hot chocolate bomb into mug
In a separate heat proof container, reconstitute Good Goat Milk powder with cold water using a whisk. (One scoop of powder to one cup of water).
Heat up reconstituted Goat Milk. 
Pour goat milk over the top of the hot chocolate bomb to melt chocolate and release the hot chocolate mix and marshmallows!

Give the combination a good stir.

Top with whipped cream

Enjoy!