Aloo Gobi (Potato and Cauliflower Curry)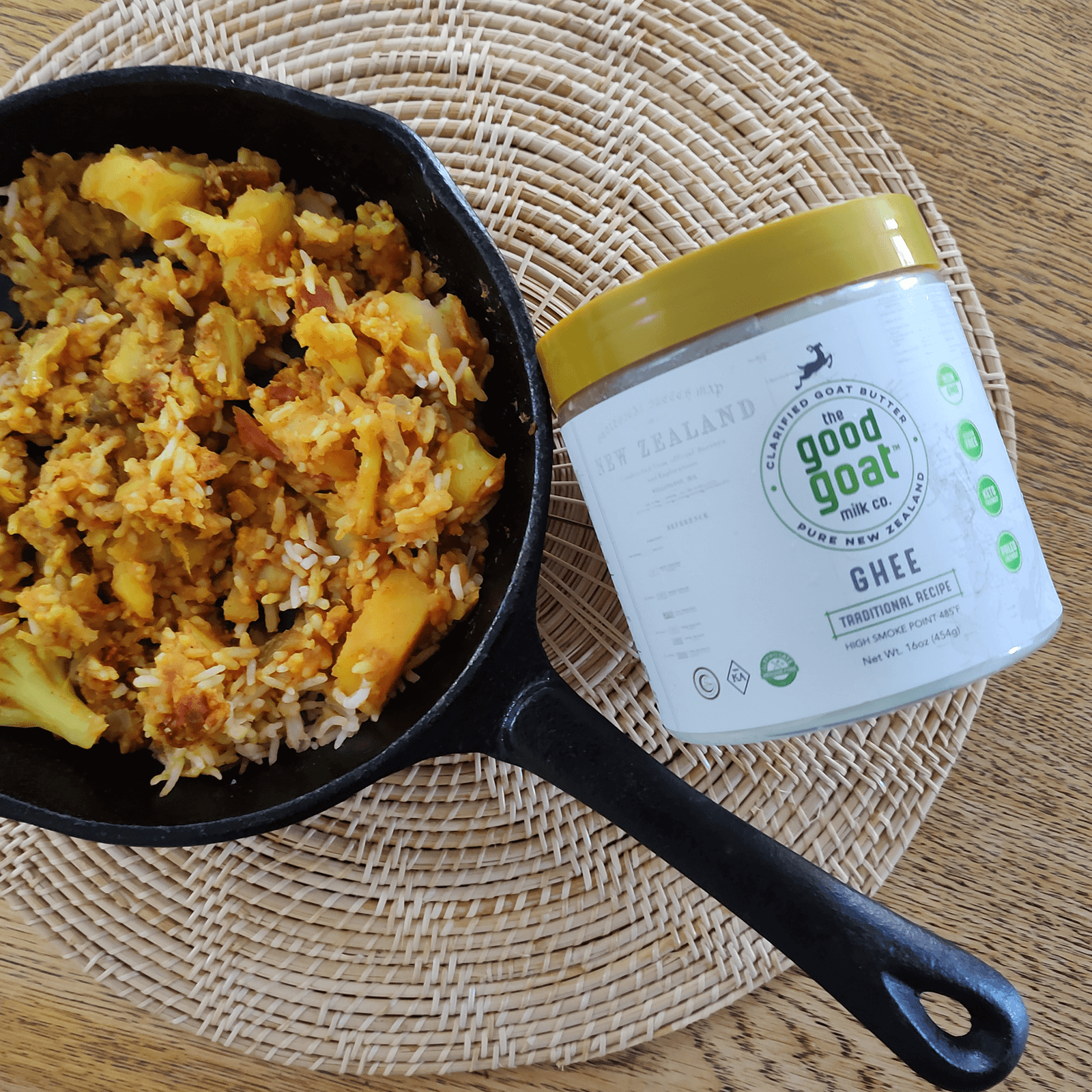 Aloo Gobi (Potato and Cauliflower Curry)
Aloo gobi (spiced potatoes and cauliflower) is a delicious vegetarian meal to make for dinner and take for lunch the next day.
Cook time: 45-60 minutes
Makes: 6 Servings
INGREDIENTS:
3 tablespoons Good Goat Milk Co Ghee

1 large red onion chopped

4 cloves garlic chopped

fresh ginger, 

5 centimeters piece peeled, grated or finely chopped

2 teaspoons mustard seeds, optional

4 teaspoons curry powder

4 teaspoons garam masala

1 teaspoon ground turmeric

1 teaspoon chilli powder

2 teaspoons salt

400 g can crushed tomatoes

4 large medium potatoes scrubbed, cut into 3cm chunks

2 cups vegetable stock or water

1 medium cauliflower cut into florets
To Serve
basmati rice

sweet mango chutney

greek yogurt - we use coconut yoghurt

poppadoms
METHOD:
Heat oil in a wok or a large heavy-based frying pan or large pot (with a lid) over medium heat. Cook onions for 6-8 minutes or until golden. Add garlic and cook for 1-2 minutes, then add ginger, mustard seeds, curry powder, garam masala, turmeric, chilli powder and salt and cook for a further 1-2 minutes.

Add tomatoes, potatoes and stock or water. Cover, bring to a simmer and cook for about 15 minutes. Uncover, add cauliflower and cook for a further 15 minutes or until cauliflower is tender.

Turn off heat, cover and let sit for 20 to 30 minutes so that flavors become more pronounced. (You can skip this step if you are starving)

Serve with basmati rice and poppadoms.
Tip: This curry is even better for lunch the next day. To warm, add one tablespoon of Good Goat Milk Co. Ghee to a cast iron frying pan, add basmati rice and curry to the pan and fry until warm. Enjoy :)